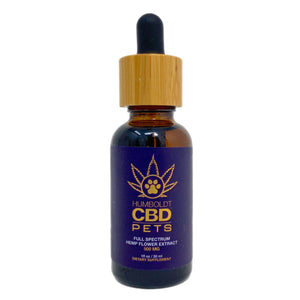 Our award winning original formula has been a long standing tool for pet owners, to both protect and improve the wellbeing of their furry family members. 

We are so excited to announce our new "Humboldt CBD PETS" formulation. 

This product is just as high quality as our human formula, but animals generally need a slightly lesser amount of CBD, and a larger spectrum of major and minor cannabinoids, for enhanced medicinal effects. 

In addition to an enhanced raw cannabinoid spectrum ratio, Humboldt CBD Pets uses the best carrier oil on the planet to deliver the CBD to your pets body and endo-cannabinoid system. Which is Organic Hemp Seed Oil, an oil full of Omegas which helps carry the CBD to your pets cells.

This product is made using BOTH, the highest quality raw full spectrum CBD oil available on the planet, as well as Organic Hemp Seed Oil as a carrier. 

We have found that there is nothing more effective to enhance animal wellness than this specific formulation.

This CBD is exactly what you need for: dogs, cats, horses and other animal friends!
CBD is a wonderful aid for a large range of ailments including:​​​
Anxiety
Stress
Pain Relief
Inflammation
Immune Health
Seizures
Neurological Disorders
Obsessions
Arthritis
Sleep Problems
& Much More!!!