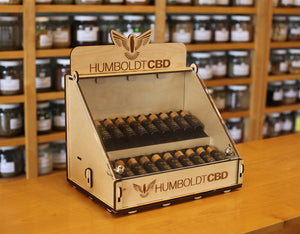 This is the perfect starting package for any business that wants to start selling premium organic CBD products.

It includes 20 Humboldt CBD 1 oz bottles - and our gorgeous wooden display case.

Our beautiful wooden Humboldt CBD display case is manufactured locally in Humboldt County.

The case holds 20 Humboldt CBD 1 oz bottles and is crafted from 100% birch wood back and sides with a plexiglass lid.
It is the perfect addition for anyone who wants to retail our products- and has a dual locking system to keep your products secure at all times.